Jim's Family History
Parents and Grandparents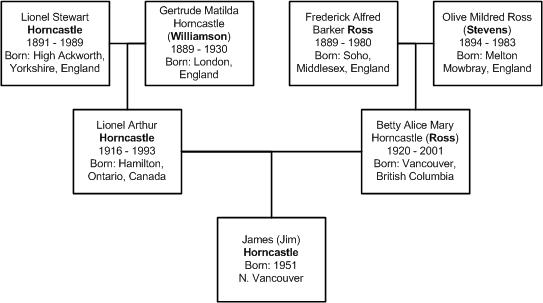 Horncastle side of the family:  
The following is a brief overview of my 'Horncastle' family history.  More details will be added as this web site is developed.
My GGG Grandfather was George Horncastle, born about 1812 in East Moor, Yorkshire .  My GG Grandfather was David Horncastle, born about 1844 in Wragby, Yorkshire . David had 2 brothers, also born in Wragby: John (born about 1839) and George E. (born about 1842).  My G Grandfather was William Horncastle, born about 1870 in West Hardwick , Yorkshire .  William had 7 siblings: George E. (born abt 1864 in Hessle, Yorkshire ); John (born abt 1868 in High Town , Yorkshire ), David and Percy (both born abt1874 in West Hardwick , Yorkshire ), Henry (born abt 1877 in West Hardwick , Yorkshire ), Sarah Elizeabeth (born about 1880 in Wragby), and Fred (born about 1883 in Wragby). My Grandfather was Lionel Stewart Horncastle (born 30 May 1891 in Ackworth, Yorkshire ).  He had one brother, Roland (born abt 1895) and one sister, Alice.  William, Percy, Lionel, Roland and Alice all immigrated to Canada between 1909 and 1911.  My Father was Lionel Arthur Horncastle (born 1916 in Hamilton, Ontario ).